Investigating the Effects of Mass Media on Learning Listening Skills
Keywords:
listening problems, mass media, EFL learners, language learning
Abstract
This research aims to investigate university students' problems and reasons and find solutions to the problems. The researcher utilized the questionnaire to investigate this kind of problem of 84 Faculty of Foreign Languages (FFL) sophomores from class 20AV01 and conducted paired samples T-test on one of the classes, which consisted of 22 participants in the experimental group within a month. The findings show that FFL sophomores- their listening ability, in general, was lower than expected since a considerable number of them could only understand simple and slow English utterances. The lack of vocabulary and pronunciation knowledge and in respect of speaker factors, "informal language", "fast and instant speech", and "the accents" from the speaker are the main causes of their failure to understand English utterances. The Paired-Samples T-test results revealed a significant difference between the pretest and post-test scores (r=0.529, p<0.001), and on average, the post-test scores were 14.3 points higher than the pretest scores. This finding suggests the importance of vocabulary and pronunciation in English listening and self-study through mass media should be taken into more concern.
References
Biagi, S. (2014). Media/Impact: An introduction to mass media. Cengage Learning.
Brindley, G., & Slatyer, H. (2002). Exploring task difficulty in ESL listening assessment. Language Testing, 19(4), 369-394. https://doi.org/10.1191/0265532202lt236oa
Brown, S. (2006). Teaching Listening. New York: Cambridge University Press.
Cross, J. (2009). Effects of listening strategy instruction on news videotext comprehension. Language Teaching Research, 13(2), 151-176. https://doi.org/10.1177/1362168809103446
John, C. (2011). The Role of Mass Media in the Development of English Language Skills among AB English Students of Isabela State University. Proceeding of the 3rd International Conference on Language and Communication 2011- Interdisciplinary Discourses in Language and Communication, p82-98.
Kim, J.S. & Kang, M.K. (2016). 'Movienglish' Focused on English Content Words for Enhancing the English Listening Skills and the Affective Factors of High School Students in Korea. International Information Institute, 19(4), 1127-1132.
Michelle, G.Q. (2020). Mass media and the development of reading and listening skills of second language learners. Journal of Critical Review, 7(15), 1163-1173. http://www.jcreview.com/admin/Uploads/Files/61d581acef3da8.63324644.pdf
Nunan, D. (1991). Language Teaching Methodology: A Textbook for Teachers. New York: Prentice Hall.
Ozeki, N. (2000). Listening strategy instruction for female EFL college students in Japan. (Unpublished doctoral dissertation, University of Pennsylvania, IN).
Paulauskas, S. (1994). The effects of strategy training on the aural comprehension of L2 adult learners at the high beginning/low intermediate proficiency level. (Unpublished doctoral dissertation, University of Toronto, Toronto).
Qiu, J. (2017). The Effect of English Movies on College English Listening Teaching. Theory and Practice in Language Studies, 7(11), 1011-1024. http://dx.doi.org/10.17507/tpls.0711.10
Ramani, V. (2018). Mass Media and its Role in Enhancing Students English Language Skills. International journal of innovative Research and Advanced Studies (IJIRAS), 5(1), 154-157.
Richards, J.C. (2008). Teaching Listening and Speaking: From Theory to Practice. Cambridge. Cambridge University Press.
Scarcella, R.C. & Oxford, R.L. (1992). The Tapestry of Language Learning: The Individual in the Communicative Classroom. Boston: Heinle & Heinle.
Spitulnik. D. (1993). Anthropology and Mass Media. Annual Reviews Inc, 22, 293-315. https://doi.org/10.1146/annurev.an.22.100193.001453
Tafani, V. (2009). Teaching English through Mass Media. Acta Didactica Napocensia, 2(1), 81-95. Retrieved November 14, 2022 from https://www.learntechlib.org/p/158961/.
Tran, Q.T. & Duong, T.M. (2020). Insights into Listening Comprehension Problems: A case study in Vietnam. Proceedings of PASAA, 2020. 58, 77-100.
Truong, N.K.V. & Le, Q.T. (2022). Utilizing Youtube to enhance English Speaking Skill: EFL Tertiary Students' Practices and Perceptions. AsianCALL Online Journal, 12(4), 7-31. https://doi.org/10.54855/acoj.221342
Underwood, M. (1989). Teaching Listening. London: Longman.
Van, L. K., Dang, T. A., Pham, D. B. T., Vo, T. T. N., & Pham, V. P. H. (2021). The Effectiveness of Using Technology in Learning English. AsiaCALL Online Journal, 12(2), 24-40. Retrieved from https://asiacall.info/acoj/index.php/journal/article/view/26.
Yanar, M. & Tütüniş, B. (2016). The impact of mass media tools on EFL students' speakingskills case. International Online Journal of Education and Teaching (IOJET), 3(1). 2-24. http://iojet.org/index.php/IOJET/article/view/105/122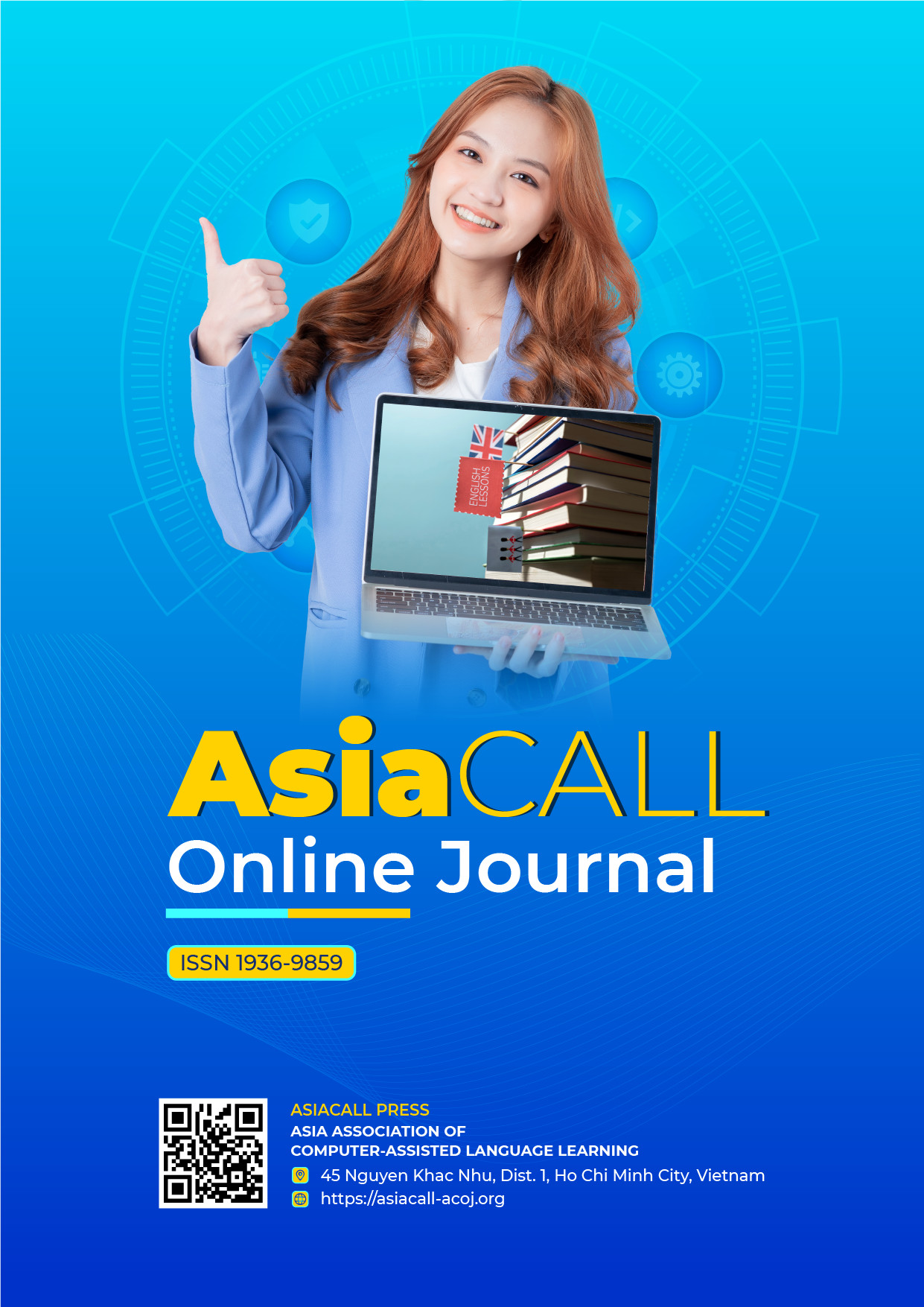 Downloads
How to Cite
Vo, T. H. C., & Cao, T. M. H. (2022). Investigating the Effects of Mass Media on Learning Listening Skills. AsiaCALL Online Journal, 13(5), 46–67. https://doi.org/10.54855/acoj.221354
License
Copyright (c) 2022 Vo Thi Hoa Canh, Cao Thi Mai Huong
This work is licensed under a Creative Commons Attribution 4.0 International License.
License
Authors retain copyright and grant the journal the right of first publication with the work simultaneously licensed under a Creative Commons Attribution 4.0 International License that allows others to share the work with an acknowledgment of the work's authorship and initial publication in this journal.
Authors are able to enter into separate, additional contractual arrangements for the non-exclusive distribution of the journal's published version of the work (e.g., post it to an institutional repository, in a journal or publish it in a book), with an acknowledgment of its initial publication in this journal.
Authors are permitted and encouraged to post their work online (e.g., in institutional repositories or on their website) prior to and during the submission process.
Copyright
The copyright of all articles published in the acoj remains with the Authors, i.e. Authors retain full ownership of their article. Permitted third-party reuse of the open access articles is defined by the applicable Creative Commons (CC) end-user license which is accepted by the Authors upon submission of their paper. All articles in the acoj are published under the CC BY-NC 4.0 license, meaning that end users can freely share an article (i.e. copy and redistribute the material in any medium or format) and adapt it (i.e. remix, transform and build upon the material) on the condition that proper attribution is given (i.e. appropriate credit, a link to the applicable license and an indication if any changes were made; all in such a way that does not suggest that the licensor endorses the user or the use) and the material is only used for non-commercial purposes.