Application of technology in teaching and learning at the University - Opportunities and challenges for lecturers and students in Vietnam today
Keywords:
technology, lecturer, student
Abstract
Vietnam is just one of several countries that have embraced the use of technological innovations in its classroom practices. From the start of the Covid-19 pandemic in 2020 until the present day, lecturers at all levels have increasingly made use of technology in the classroom. The best way to apply the policy of isolation during the Covid-19 pandemic while maintaining communication and university operations is through the use of technology in education, most notably online learning. The university's output standards, program structure, and knowledge base have all been guaranteed by the growth of online education. Important university events can also be coordinated online, ensuring that they go off without a hitch. For lecturers, incorporating technological tools into the classroom is a radical departure from the approaches they have relied on in the past. Students now have access to more resources, more recent information, and more efficient ways to utilize lecture content, thanks to the widespread adoption of technology in the classroom. The article employs a document-analysis methodology to examine the advantages and disadvantages of employing technology in the classroom from the perspectives of both instructors and their students.
References
Amy M. Johnson, Matthew E. Jacovina, Devin G. Russell, and C. M. S. (2016). Challenges and solutions when using technologies in the classroom. Adaptive Educational Technologies for Literacy Instruction, 1–28. https://doi.org/10.4324/9781315647500
Asian Development Bank. (2017). Innovative strategies for accelerated human resource development in South Asia: Information and communication technology for education: Special focus on Bangladesh, Nepal, and Sri Lanka. © Asian Development Bank. http://hdl.handle.net/11540/8299.
Balyer, A., & Öz, Ö. (2018). Academicians' views on digital transformation in education. International Online Journal of Education and Teaching (IOJET), 5(4), 809–830. http://iojet.org/index.php/IOJET/article/view/441/295
Bui Quang Dung et al. (2020). Some Difficulties Of Students When Studying Online In The Context Of The Covid-19 Pandemic. Csdlkhoahoc.Hueuni.Edu.Vn, 19. https://csdlkhoahoc.hueuni.edu.vn/data/2021/7/Bui_Quang_Dung,_Nguyen_Thi_Hoai_Phuong,_Truong_Thi_Xuan_Nhi_-_Nhung_kho_khan,_rao_cua_sinh_vien_doi_voi_viec_hoc_truc_tuyen_trong_boi_canh_dich_benh_Covid_-19.pdf
Bulman, George; Fairlie, R. W. (2016). Technology and Education: Computers, Software, and the Internet Paper prepared for the. Handbook of the Economics of Education, 5(October), 239–280.
Chau Thuc Quyen & Nguyen Thi Thanh Hong. (2021). A Theoretical Study on the Genuinely Effective Technology Application in English Language Teaching for Teachers and Students. AsiaCALL Online Journal, 12, No. 5(2), 17–23. http://www.tjyybjb.ac.cn/CN/article/downloadArticleFile.do?attachType=PDF&id=9987
Cukurova, M., & Luckin, R. (2018). Measuring the Impact of Emerging Technologies in Education: A Pragmatic Approach. 1181–1199. https://doi.org/10.1007/978-3-319-71054-9_81
Dang Nguyen. (2019). Young people being bullied on social networks: Lack of family attention and sharing. Youth - Forum of Vietnam Youth Union. https://thanhnien.vn/nguoi-tre-bi-bat-nat-tren-mang-xa-hoi-thieu-su-quan-tam-va-chia-se-cua-gia-dinh-post896936.html
Dang Xuan Thu - Nguyen Minh Phuc. (2014). Factors affecting the application of information technology by teachers in teaching and learning foreign languages in Vietnam. National foreign language project. http://ngoainguquocgia.moet.gov.vn/nhung-nhan-to-tac-dong-toi-viec-giao-vien-ung-dung-cntt-vao-dayhoc-ngoai-ngu-o-viet-nam-1711305.html
Tracey Flemming; James Gambiza; Chris Upfold; Mark de Vos; Maxine Diemer; Carol Thomson; Pedro Tabensky; Paul Wessels; Jen Snowball; Andrew Todd; Sioux McKenna; Kevin Barnard; Mutsa Chinyamakobvu; Hans-Peter Bakker; Sunitha Srinivas; Steffen Büttner; Sall. (2016). Teaching and Learning with Technology: Reframing traditional understandings and practices. 1–40. https://www.ru.ac.za/media/rhodesuniversity/content/chertl/documents/RU Teaching with Technology booklet.pdf
Kawala Martha. (2018). Challenges facing teachers and students in the use of instructional technology: (a case of selected secondary schools in kagoma county, Jinja district Uganda), Biomass Chem Eng.
Krohn, R. (2003). The role of technology in education. Journal of Healthcare Information Management : JHIM, 17(3), 28–30.
Manoj, D. (2017). Technology Mediated Media Education: A Case Study of E-Learning Initiatives in India. Journal of Mass Communication & Journalism, 07(03), 95–100. https://doi.org/10.4172/2165-7912.1000337
Mohammed, N. H. J., M. (2020). The Challenges and Prospects of Using E-learning among EFL Students in Bisha University. Arab World English Journal, 11(1), 124–137. https://doi.org/10.24093/awej/vol11no1.11
Nguyen Thi Bich Nguyet. (2021). The role of technology application in teaching and learning in universities today. Industry and Trade Magazine, Issue 12(5). Scientific research results and technology application. https://tapchicongthuong.vn/bai-viet/vai-tro-cua-viec-ung-dung-cong-nghe-trong-day-va-hoc-dai-hoc-hien-nay-82252.htm
Nguyen Thi Tuyen. (2021). Advantages and disadvantages of online teaching in the current period. Teaching and Learning Today, Issue I (9), 22–25.
Ottestad, G., Mostert, M., Quinn, L., Ilomäki, L., Noor-Ul-Amin, S., Shum, I. P., Kong, C. H., Fox, R., Majumdar, S., Cox, M., Abbott, C., Blakeley, B., Beauchamp, T., Rhodes, V., Length, F., Hennessy, S., Ruthven, K., Deaney, R., Wong, E. M. L., … Hughes, J. (2008). Emerging Trends in ICT for Education & Training. Educational Technology and Society, 8(1), 94–101.
Padmanabhan, A. (2020). Advantages and Disadvantages of using technology for teaching and learning process in education. International Journal for Research Trends and Innovation (Www.Ijrti.Org), 5(4), 138- 140. https://ijrti.org/papers/IJRTI2004024.pdf.
Pham Ngoc Kim Tuyen. (2022). Vietnamese Students' Perspectives on Online Micro-Teaching (OMT) as a Technique. AsiaCALL Online Journal, 13(1), 40–72. http://eoi.citefactor.org/10.11251/acoj.13.01.003EOI
Pham Thi Dieu Linh et al. (2022). Analyze the current situation of foreign language teaching and learning in the 4.0 era at the Institute of Policy and Development and propose some recommendations. Special Issue of Policy Research and Development, 2, 31–39.
Raja, R. & P. C. N. (1984). Impact of modern technology in education. Https://Www.Researchgate.Net/Publication/265280500, 3, 33–35.
Renes, S. L., & Strange, A. T. (2011). Using Technology to Enhance Higher Education. Innovative Higher Education, 36(3), 203–213. https://doi.org/10.1007/s10755-010-9167-3
Sudarsana, I. K., Nakayanti, A. R., Sapta, A., Haimah, Satria, E., Saddhono, K., Achmad Daengs, G. S., Putut, E., Helda, T., & Mursalin, M. (2019). Technology Application in Education and Learning Process. Journal of Physics: Conference Series, 1363(1). 1-6. https://doi.org/10.1088/1742-6596/1363/1/012061
Tran Thi Ngoc Ny. (2022). Online learning and student difficulties from the practice of Hanoi university of internal affairs - Quang nam branch. Scientific journal- Dong A University, 1, 32–38.
Open University. (2021). Why do more and more students choose distance learning? https://ehou.vn/tai-sao-ngay-cang-nhieu-sinh-vien-lua-chon-hoc-dai-hoc-tu-xa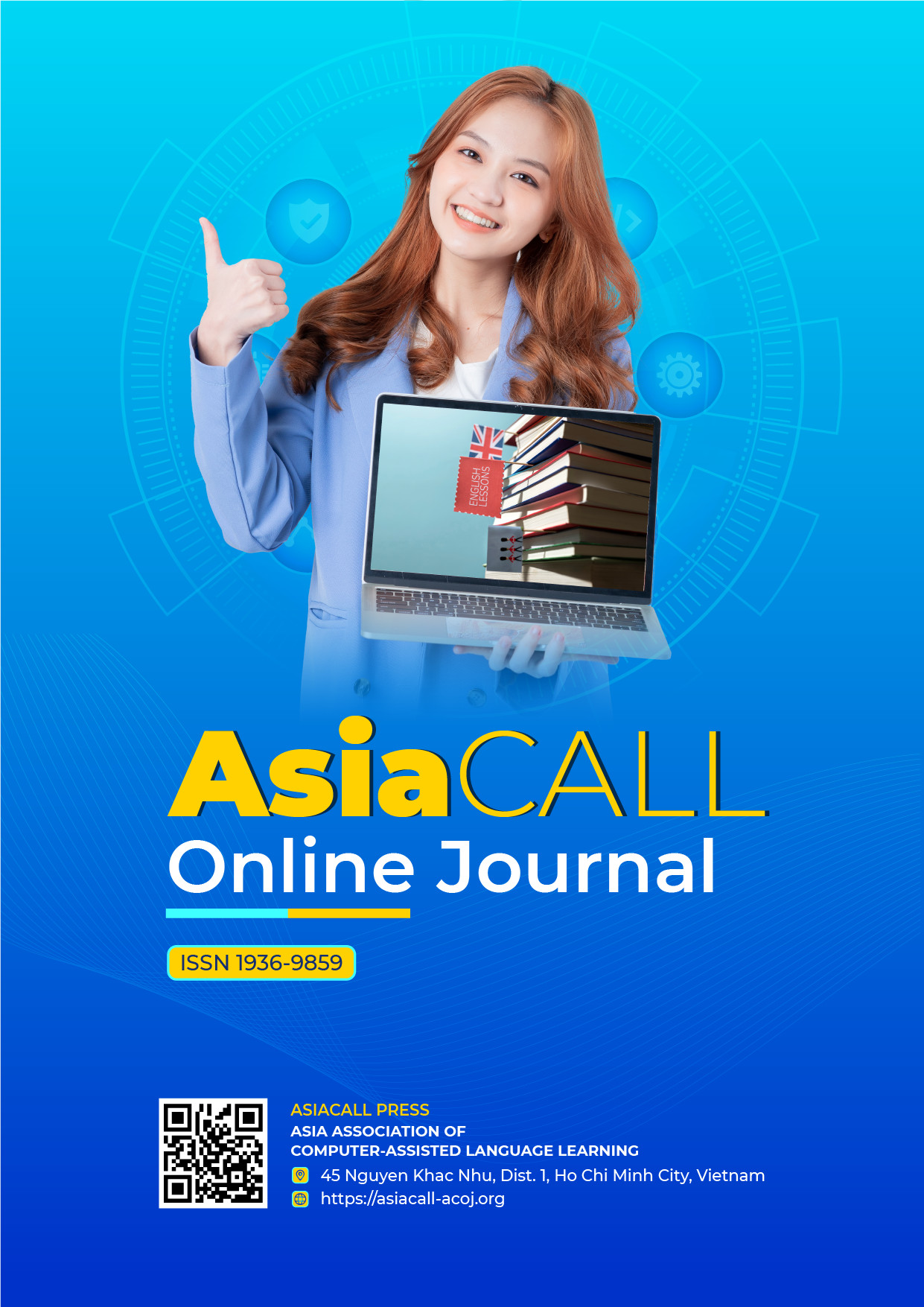 Downloads
How to Cite
Vu, T. B. N. (2022). Application of technology in teaching and learning at the University - Opportunities and challenges for lecturers and students in Vietnam today. AsiaCALL Online Journal, 13(5), 100–111. https://doi.org/10.54855/acoj.221357
License
Copyright (c) 2022 Vu Thi Bich Ngoc
This work is licensed under a Creative Commons Attribution 4.0 International License.
License
Authors retain copyright and grant the journal the right of first publication with the work simultaneously licensed under a Creative Commons Attribution 4.0 International License that allows others to share the work with an acknowledgment of the work's authorship and initial publication in this journal.
Authors are able to enter into separate, additional contractual arrangements for the non-exclusive distribution of the journal's published version of the work (e.g., post it to an institutional repository, in a journal or publish it in a book), with an acknowledgment of its initial publication in this journal.
Authors are permitted and encouraged to post their work online (e.g., in institutional repositories or on their website) prior to and during the submission process.
Copyright
The copyright of all articles published in the acoj remains with the Authors, i.e. Authors retain full ownership of their article. Permitted third-party reuse of the open access articles is defined by the applicable Creative Commons (CC) end-user license which is accepted by the Authors upon submission of their paper. All articles in the acoj are published under the CC BY-NC 4.0 license, meaning that end users can freely share an article (i.e. copy and redistribute the material in any medium or format) and adapt it (i.e. remix, transform and build upon the material) on the condition that proper attribution is given (i.e. appropriate credit, a link to the applicable license and an indication if any changes were made; all in such a way that does not suggest that the licensor endorses the user or the use) and the material is only used for non-commercial purposes.