Community of Practice: A narrativized Account of a Full-time Multicultural Worker
Keywords:
Community of Practice, transcultural communication, transcultural challenges, transcultural successes, narrative inquiry
Abstract
Working in an international context requires both resilience and flexibility. Every multicultural worker may face distinctive linguistic and cultural challenges but also have precious learning opportunities. This study was motivated by a desire to gain a deeper understanding of the experiences of international employees through the voice of a worker currently engaged in transcultural communication. The research participant is a non-native speaker of English but is highly proficient. The participant obtains high-level tertiary qualifications and has worked professionally in her home country. Sarah is Vietnamese and has been working in Australia for years as a research fellow at a university. Data was collected through an elicited narrative, prompted by open-ended questions, and done in written form. The story was coded for transcultural communication topics, and then selected passages were chosen to showcase intriguing ideas. Findings indicated that one could achieve transcultural success in a multicultural working context by conquering transcultural challenges with huge support from his/her Community of Practice (CoP). It is also suggested that workplace CoPs play an important role in proceeding transcultural communication through social interaction between employees in a global organization, which results in transcultural successes.
References
Connelly, F.M., & Clandinin, D.J. (2006). Narrative Inquiry: A Methodology for Studying Lived Experience. Research Studies in Music Education, 27, 44-54. http://dx.doi.org/10.1177/1321103X060270010301.
Eckert, P. (2000). Linguistic variation as social practice: The linguistic construction of identity in Belten High. Madden, Massachusetts: Blackwell.
Fountain, D. E. (1991). Battle between the Gods: the challenge of transcultural communication. Journal of Christian Nursing, 8(1), 26-34.
Gasiorek, J., Giles, H., & Soliz, J. (2015). Accommodating New Vistas. Language & Communication, 41, 1-5. https://doi.org/10.1016/j.langcom.2014.10.001.
Gertsen, M. C., & Soderberg, A.M. (2011). Intercultural collaboration stories: on narrative inquiry and analysis as tools for research in international business. Journal of International Business Studies, 42 (6), 787-804.
Giles, H. (1973). Accent mobility: A model and some data. Anthropological Linguistics, 15, 87–105.
Graven, M., Lerman, S., & Wenger, E. (1998). Communities of practice: Learning, meaning and identity. Journal of Mathematics Teacher Education 6, 185–194 (2003). https://doi.org/10.1023/A:1023947624004.
Hofstede, G. J, & Minkov, M. (2010). Cultures and organizations: Software of the mind. (3rd ed.). London: McGraw-Hill.
Holmes, J. & Woodhams, J. (2013). Building interaction: The role of talk in joining a community of practice. Discourse and Interaction, 7(3), 275-298.
Jackson, J. (2016) 'Breathing the smells of native-styled English': a narrativized account of an L2 sojourn. Language and Intercultural Communication, 16(3), 332-348.
Lave, J., & Wenger, E. (1991). Situated learning: legitimate peripheral participation. Cambridge [England], New York: Cambridge University Press.
Lillie, L., Penny, D., Pat, B., Julie, K., & Antonella, V. (2015). Challenges in Oral Communication for Internationally Educated Nurses. Journal of Transcultural Nursing 12 (1), 83. doi:10.1177/1043659614524792.
Matsuo, M., & Aihara, M. (2022). "Effect of a community of practice on knowlegde sharing across boundaries: the mediating role of learning goals", Journal of Knowledge Management, 26 (1), 1-16. https://doi.org/10.1108/jkm-08-2020-0604
Nicolini, D., Pyrko, I., Omidvar, O., & Spanellis, A. (2022). Understanding Communities of Practice: Taking Stock and Moving Forward. The Academy of Management Annals. 16. 10.5465/annals.2020.0330.
Nguyen, H. N. (2021). A Case Study of Home-based Teaching and Learning Practice at Ton Duc Thang University. AsiaCALL Online Journal, 12(2), 1-11. Retrieved from https://asiacall.info/acoj/index.php/journal/article/view/24
Su, A. A. T., Cao, T. X. T., Le, D. L. V., Nguyen, L. N. T., & Nguyen, T. L. A. (2021). Improving English Speaking Ability Through E-Learning. AsiaCALL Online Journal, 12(2), 58-71. Retrieved from https://asiacall.info/acoj/index.php/journal/article/view/29
Voigt, G., & Reuter, B. (2009). How a Sinti family envisions death with dignity: challenge to transcultural communication. Pflege Zeitschrift, 62(12), 722-725.
Wenger, E., McDermott, R. A., & Snyder, W. (2002). Cultivating communities of practice: a guide to managing knowledge: Boston, Mass.: Harvard Business School Press.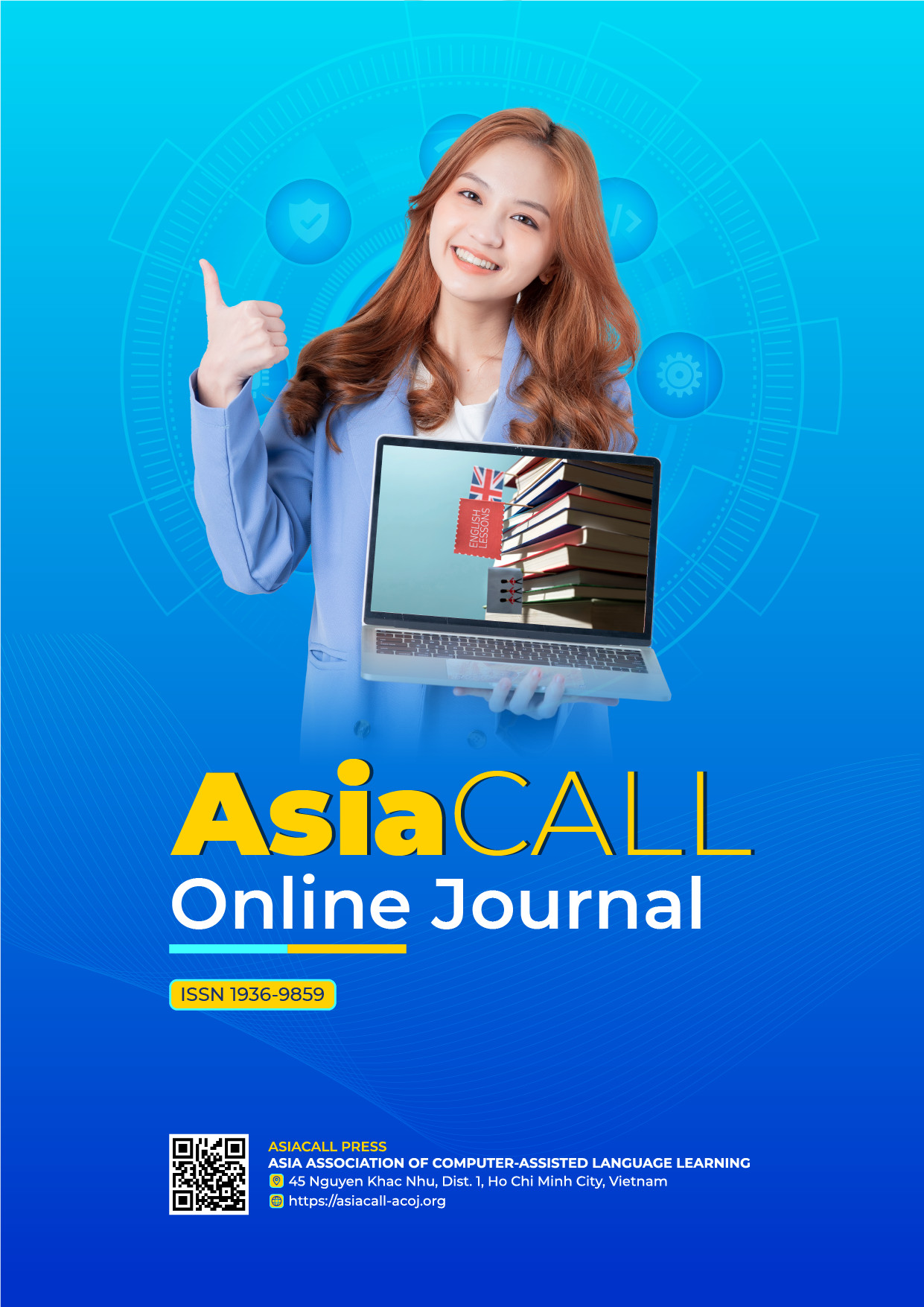 Downloads
How to Cite
Nguyen, T. H. B. (2023). Community of Practice: A narrativized Account of a Full-time Multicultural Worker. AsiaCALL Online Journal, 14(1), 30–39. https://doi.org/10.54855/acoj.231413
License
Copyright (c) 2023 Nguyen Thi Hoang Bau
This work is licensed under a Creative Commons Attribution 4.0 International License.
License
Authors retain copyright and grant the journal the right of first publication with the work simultaneously licensed under a Creative Commons Attribution 4.0 International License that allows others to share the work with an acknowledgment of the work's authorship and initial publication in this journal.
Authors are able to enter into separate, additional contractual arrangements for the non-exclusive distribution of the journal's published version of the work (e.g., post it to an institutional repository, in a journal or publish it in a book), with an acknowledgment of its initial publication in this journal.
Authors are permitted and encouraged to post their work online (e.g., in institutional repositories or on their website) prior to and during the submission process.
Copyright
The copyright of all articles published in the acoj remains with the Authors, i.e. Authors retain full ownership of their article. Permitted third-party reuse of the open access articles is defined by the applicable Creative Commons (CC) end-user license which is accepted by the Authors upon submission of their paper. All articles in the acoj are published under the CC BY-NC 4.0 license, meaning that end users can freely share an article (i.e. copy and redistribute the material in any medium or format) and adapt it (i.e. remix, transform and build upon the material) on the condition that proper attribution is given (i.e. appropriate credit, a link to the applicable license and an indication if any changes were made; all in such a way that does not suggest that the licensor endorses the user or the use) and the material is only used for non-commercial purposes.